Something Wild Thing One and I love to do is find television series on Netflix and watch all the episodes, the historical series are our favorites. So, recently I came across AMC's Turn: Washington's Spies, and immediately knew it was one we would like. It chronicles the lives and events surrounding the Culper Ring. A ring of spies during the American Revolutionary War that gathered intelligence about the British Army for The Continental Army led by George Washington. After watching all the episodes from season one and two I wanted to do some research about the characters and events that are portrayed in the series. One of my favorite characters was Major John Andre, a Red Coat.
I like his character, partly because the actor that plays him is super handsome J.J. Feild, but also because he is portrayed as being very charming, kind, artistic, and compassionate. Everyone seems to like him, the British and Americans alike. I wanted to know if that was a true portrayal, or if they had just given him those traits to make a good character for the show.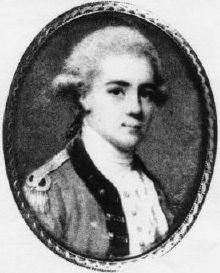 As soon as I started reading about him I fell in love with the real Major Andre. The characters personality and traits were taken from the true persons characteristics and talents. Some of the events, and relationships are over dramatized with added content, but his nature matches historical record. He was artistic, good-natured, intelligent (spoke four languages), kind, handsome, well liked by both sides of the conflict, brave, and loyal to his country. He was also a spy, for the British. He was caught sneaking information to the Red Coats from Benedict Arnold. He was then hung by order of George Washington. Even the Americans were sad to see Major Andre go, but felt it was a necessary evil of warfare. He was brave to the end, drawing a self portrait the day before he died, and putting the noose around his own neck. So tragical!!!
His self portrait is housed in the Yale Museum of Art in Connecticut.
After learning all of this about him, and more, I liked him even more. I found a fellow Major fan on Instagram, she had a Major doll and book collection....what?! I wanted a book collection and doll! So, I searched and found a 1909 edition of "An Authentic Narrative of the causes which led to the death of Major Andre, Adjutant - General of his Majesty's Forces in North America" by Joshua Hett Smith. It was Smith's house that Major Andre and Benedict Arnold met at when Arnold gave the Major the intelligence about West Point that he would then be caught with and hung for possessing.
The portrait on the left is another self portrait done by Major Andre when he was a younger man.
So, my book collection is started!! Then, I talked to my oh-so-creative mom, and she made me a doll!!
He is so cute!! I can't wait to have many historical adventures with my Major, and keep growing my book collection.